BTI MARKET SURVEILLANCE REPORT – SEPTEMBER 2019
It's been over 6 months since we launched the BTI Verified program to verify accurate reporting of cryptocurrency exchange volumes. During this period, we have received cooperation from many exchanges, thereby substantially lowering wash trading figures.
Since 2019, global wash trading has reduced by 35.7% among the real Top-40 exchanges. The process of sharing our data reports with many of these exchanges has resulted in enhanced mechanisms for detecting wash trading accounts and shutting them down.
Data for individual token and exchange wash trading can be found on our newly launched global wash trade tracking page.

According to our data, the cleanest exchanges over this time continue to be Kraken, Poloniex, Coinbase and Upbit. On the other side, OKEx and Bibox lead the exchanges with the highest percentage of wash trading in our real ranking of the Top 40. Fake volumes of these exchanges exceed 75%, nevertheless, their real volumes (with wash trades removed) still place them in the Top-20 consistently.
Analyzing trade volume by country, we found that Japan and the United States lead the world in countries with the cleanest exchanges. This can be due to several factors, mainly the legal and regulatory standards in these countries. However, stricter regulatory frameworks do not always produce the cleanest exchanges.
For example, South Korea also has a closely monitored regulatory system, but a closer look at Bithumb is not being taken by authorities, as our data shows they have been heavily wash-trading Dash and Monero for the entire year. We have these tokens being wash traded over 90% of their volume.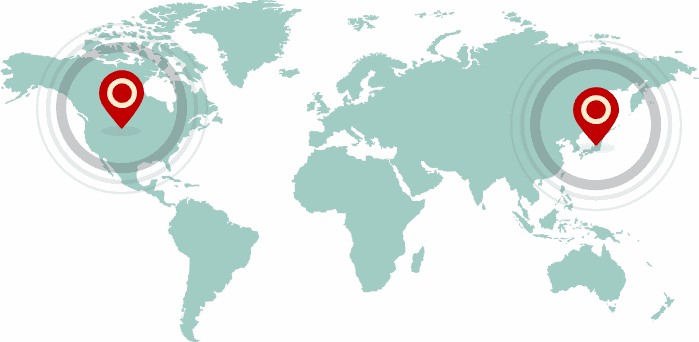 New BTI Verified Exchanges
The latest BTI Verified exchanges include Binance, Gemini, Bitflyer and Indodax. Binance is now under 10% wash trading after hovering close to 20% through the first few months of 2019. In addition, Bitflyer has been added as our data shows them under 5% over the past few months. We found Gemini around 12-15% at the beginning of the year, but they are now under 10% as well.
We are still verifying any exchange under 10% wash trading. Exchanges that wish to work with us to lower wash trading figures are sent data reports which flag wash trades and help compliance teams to install or upgrade their trade surveillance systems. Exchanges that wish to get BTI Verified can contact us here. The methodology and qualifications for the BTI Verified program can be found here.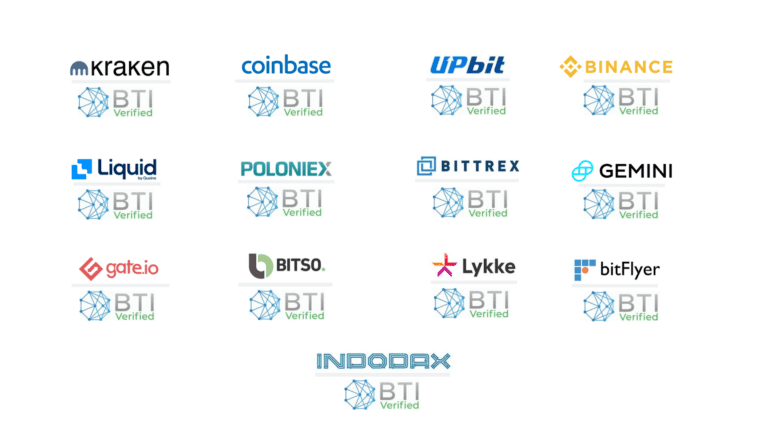 Coinmarketcap (CMC)
CMC still lists numerous scam exchanges in its Top-10 "Adjusted Volume" rankings. Its Top-10 list includes LBank, BW.com, Bit-Z, Coinbene, and OEX, which our data is shows wash trading rates at high levels from 96.9% up to 99.7%. This continues because CMC ranks exchanges by trading volume without any basic checks, which motivates trading platforms to report false data and rank higher, thus becoming more visible to users.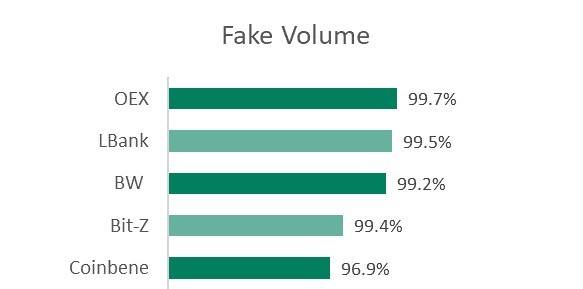 According to our calculations, among the Top-100 exchanges on CMC, there are 73 currently wash trading over 90% of their volumes. Thus, only about a quarter of the exchanges on CMC publish truthful information about their true volume of trades.
These images below show what happens when a trader tries to sell tokens using a market order on these scam exchanges. We see 25-50% drops on those long candle wicks (with low sell volume) due to the order books being filled up with fake liquidity and trades not executing anywhere near the alleged top bids. These types of charts (such as OEX below) with repetitious buying patterns of flat volume bars and/or irregular candle formations continue to be seen on over 70% of exchanges on CMC's Top-100 "Adjusted Volume" rankings.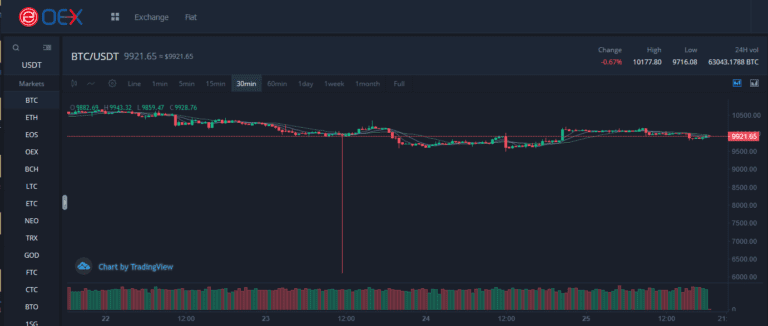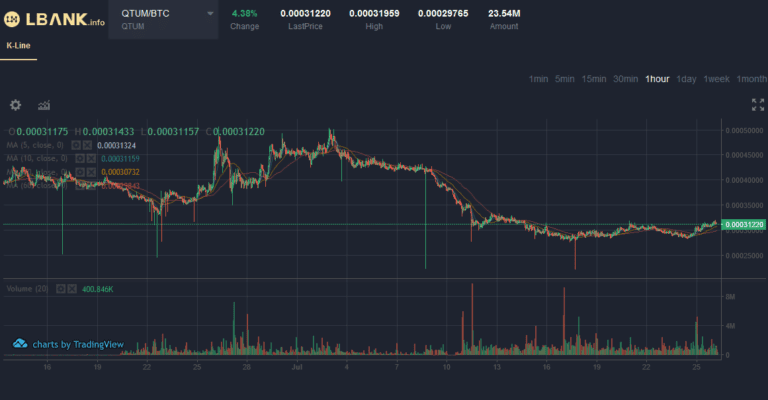 Many of these exchanges also post ghost orders and trade executions which never actually happened to try and create natural volume patterns (seen in the volume meters of the Lbank chart above ) that are not as obvious as the flat volume bars across the board seen in the OEX chart.
BTI Hotwire
This week we launched our first Hotwire email which warns token projects in the space about shady exchanges trying to extract listing fees out of projects based on fake volumes. Currently, we have over 700 token project emails registered, and we advise any others that wish to receive these notices to contact us. We will continue to send these alerts out as we get word of new fake exchanges popping up.
The latest exchanges faking their volume which many token projects have reported to us, and are trying to extract up to $100,000 per token listing, include BitMax and P2PB2B exchanges.
BitMax is clearly wash trading their highest volume tokens USDC/USDT, and PAX/USDT massively in 4hr segments as seen in these images of their 1hr charts.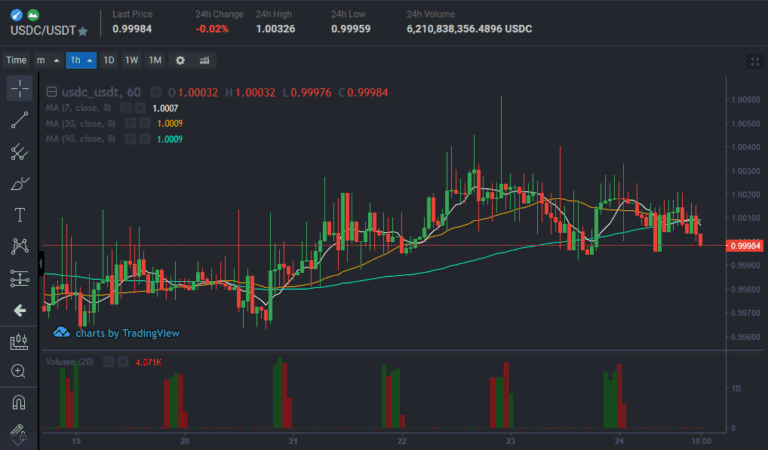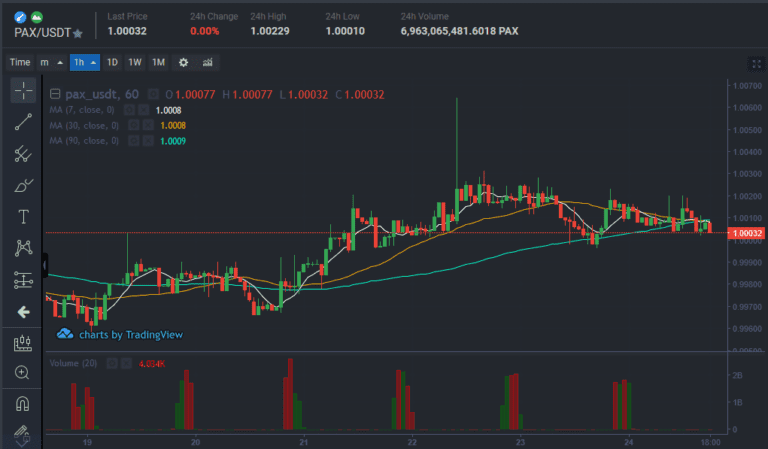 On the P2PB2B charts, we can once again see the long candle wicks with large percentage drops for actual real orders and the repetitious buys of bots in between.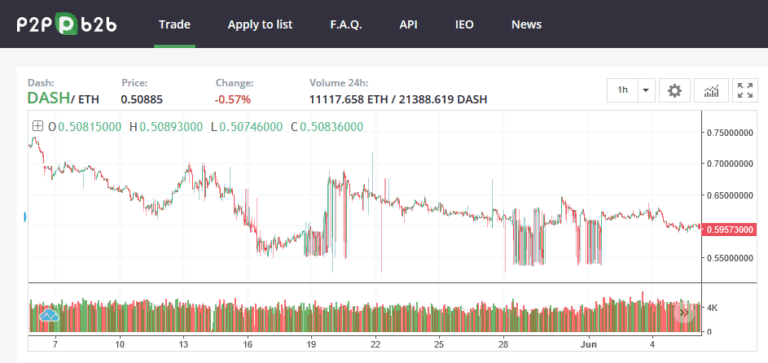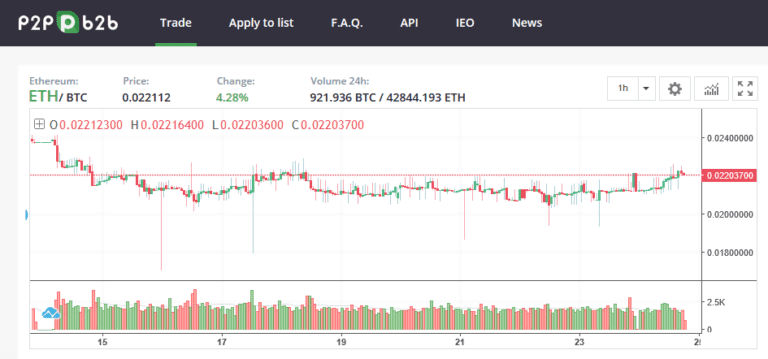 True Volumes of Coins
Tallying data from the real Top-40 exchanges in the space by volume, Bitcoin is still being wash traded by around 50%. We find Ethereum around 75%, XRP at 55%, and Litecoin at 74%. Most of this wash trading can be attributed to OKEx, Bibox, and Huobi.
Ethereum Classic, Monero, and Dash are the most heavily wash traded tokens in our Top-25 at over 80% fake volume, largely due to OKEx, Bibox, and Bithumb. Maker Dao, Binance Coin, and LEO are the least wash traded tokens in the top 25 at under 25% each.
Wash trading among the Top-500 tokens we are tracking is trending down over the past 90 days. VITE, XDN, and IXT tokens had the largest boost in wash trading by over 80%. MORE, PIVX and ETHOS were the top tokens reducing wash trading by over 40% during this time.
The full wash trading figures for all tokens can be found on our tracking page.
Stable coins
Over the past 90 days, the top stable coin remains USDT, accounting for 94% of all stable coin trading volume with wash trades removed. In terms of wash trading, USDT has the highest value among our Top-40 leading exchanges over the past 90 days, at 67.3%.
USDC's true volume has grown into 2nd place and is currently the fastest growing stable coin this year, along with the lowest global wash trading value at under just 7% over the past 90 days. TUSD is around 12%, and PAX at 13.7% amongst our top 40 exchanges.
DAI is showing 30.2% wash trading amongst our top 40 and is currently in 5th place of stable coins.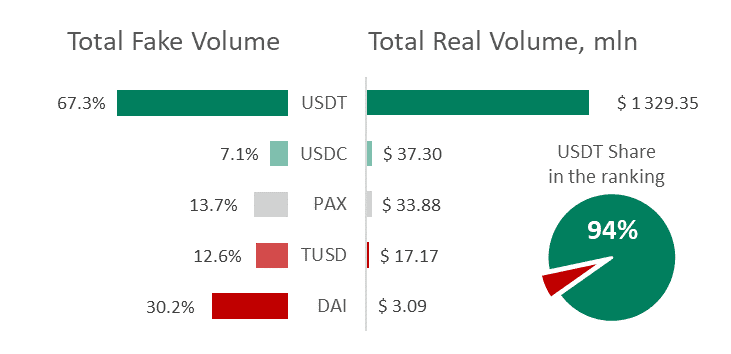 Although we have made great strides in the past year BTI has been conducting operations, there is still work to be done in the cryptocurrency market. Fake trading volumes significantly distort the market picture, thereby misleading investors. With this in mind, we recommend traders and investors to check our site or connect to our data via our Clean API for accurate trade volumes of exchanges and their individual pairs.
BTI will continue to add BTI Verified exchanges and monitor the cryptocurrency landscape to keep both investors and those working on token projects informed on the true current state of the space. If you would like your exchange analyzed or would like to sign up your token project to our BTI Hotwire email list please contact us.